Our Company believes in keeping the Earth Green and with the Environment in mind, we have consciously decided to focus on the manufacture of Water-Based Inks.
It is a source of both pride and inspiration to us, that we were able to convert literally thousands of Flexo Printers from the traditional and time tested use of Solvent Based Inks to the then relatively unknown Water-Based Ink technology.
By switching to Aqueous Inks, our Clients were not only able to save on printing costs but were also to ensure healthier working conditions and considerably reduce the risk of fire.
Throughout the two decades and more, of our existence we have continuously upgraded both Machinery and Systems to keep pace with emerging technologies and Customer requirements.
A High-end ERP System helps us maintain a complete database of our Clients. Details such as the Inks indented by them over the years and the specification of the Anilox on their Flexo Printer, allow us to maintain both consistency of supply and the quality of the Print.
Our Research and Development team continuously works on creating new and improved formulations to satisfy the print quality required by our Clients on a varied range of substrates and different qualities of Paper.
In recent years, there have been dramatic and rapid changes in the Print industry. Slow-speed, manually-fed, Single Colour Flexo Printers have given way to High-Speed, Automated, Four Colour Board Printer-Slotters. Inks have had to be reformulated to suit the new requirements.
A greater concern for the environment has resulted in a stricter enforcement of standards. All our Inks are in compliance with RoHS and EN-71/3 regulations.
In acknowledgement of the role of the Company in pioneering the manufacture of Water-Based Inks in India and in appreciation of the pioneering role played by the company in the adoption and development of In-house Printing in the Corrugated Box Manufactures (FCBM) of India, conferred its prestigious B. K. DOSHI Award on the Company in December 2009.
Our expertise in Water-Based Inks is at your service.
Company History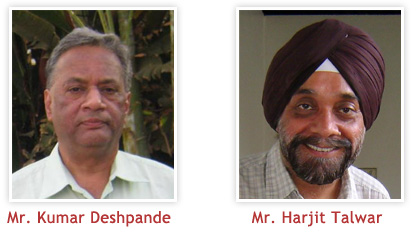 The Directors of DOLPHIN INKS are Mr. Kumar Jaikrishna Deshpande and Mr. Harjit Singh Talwar. Both are graduates of India's premier Institutes of learning. They are Engineering Graduates from IIT Kharagpur and IIT Delhi respectively and Post Graduates from the Indian Institute of Management, Kolkata.
They took the entrepreneurial plunge in 1983 by co-founding Dolphin Inks Private Limited Early on they decided not to develop "me-too" products but to focus on new innovative technologies that would help them create a niche segment for their company.
Therein lay the genesis of the indigenous development of Flexo Water Based Inks Industry in India.
Today with manufacturing units at Nasik and Badlapur and Distributors all over the country, the Company's products and services are available nationwide.
Innovation, Technology and a Commitment to Quality have been the key drivers of growth for the company.
The Company was an early convert to Enterprise Resource Planning (ERP) and has had its Quality Management Systems audited and approved by INTERNATIONAL CERTIFICATE SERVICES since 2001.
The end result is Printing Inks of consistently superior quality, tailor-made to suit specific requirements and best value for money.
Our Inks find regular use not only throughout this Incredible country but also in the SAARC nations and to several countries in the African Continent.
The Company is also dedicated to developing inks for printing applications which though only an "idea" today could become the mainstay of tomorrow's Printing Technology.
We do not only Sell Ink, we provide Printing Solutions.